EFTPOS and Health Claim
Services on the nbnTM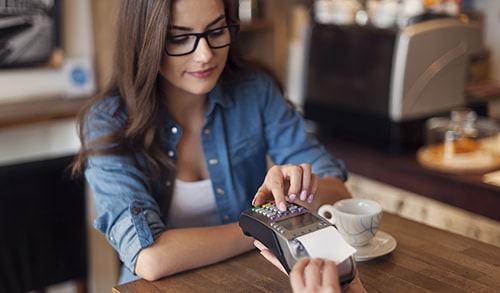 EFTPOS and Health Claims Terminals
In order for your EFTPOS and Health Claim Terminals to work on the nbnTM, you need to make sure you order the right type of internet or phone service over the nbnTM to work with your EFTPOS or terminal machine. Ask your EFTPOS provider for advice before moving to the nbnTM.
In order to migrate to the nbn™ services such as EFTPOS and Health Claims Terminals need to be considered prior to switching. Most standalone EFTPOS and Health Claims Terminals machines that are not linked to a point of sale computer system use a traditional landline phone line to process transactions with the bank or provider. Where the fibre-to-the-premises network is being installed, most existing phone lines will be replaced by the nbnTM¹.
In order to continue using an EFTPOS and/or Health Claims Terminals that uses a landline phone line to call the bank, businesses in these areas will need to move their landline phone services over to the nbn™. Alternatively, some banks now offer EFTPOS machines that can use a broadband internet connection (or a mobile network connection), and do not rely on a phone line. Merchants should ask their bank for further information about these types of terminal.
1: Call your device provider (EFTPOS or Health Claims Terminal provider) to confirm your requirements. Ask the following:
What phone companies and types of phone services will work with your device over the nbnTM network?
Ask are there any cabling changes required for your business to get your device to work over the nbnTM network (for example, will existing phone sockets need to be reconnected to your new phone service?) and if any charges will apply?
2: Check with GoInternet:
Tell us about the services you have on existing landlines? E.g. EFTPOS, Health Claims Terminal, Alarm, Fax Machines.
Tell us about your requirements, as advised by your EFTPOS, Health Claims Terminal provider.
Arrange with us to have any required wiring changes done to connect your EFTPOS or Health Claims Terminal connected.
3. Test your EFTPOS/Health Claims Terminal:
After the nbnTM network is installed and working, test each device to confirm that it is working.
(Ask your device provided what button should you press on the device to test it and what should the result be if it is working?)
If it is not working, please contact us immediately and provide as much details as you can be regarding the connection to ensure a prompt and effective support liaison.